3 Jan, 2019
Sanquhar Knitting at A' The Airts – Knitting Tour of Scotland and Highlands
Constance Hall joined our Best of Scotland Tour in September 2018 and tells us about her experience in Sanquhar which was included on the tour.
---
If Storm Ali had had its way we would never have made it to Sanquhar. We were a group of knitters in Scotland on a 9 Night Best of Scotland with Highlands Knitting Tour organised through knittingtours.com. This was day 3 and we were on our way to À the Airts, a community arts and craft center in the heart of Sanquhar, a town on the River Nith in Dumfries and Galloway, Scotland. Storm Ali had started to move in that morning, bringing wind and rain and downed trees on our route both in front of and behind our tour bus. We almost didn't make it to our knitting demo and our visit to the Tolbooth Museum….but knitters can't be stopped! Once we got there we found it was well worth the effort! Although the center had lost its power in the storm, they welcomed us warmly. After a cup of restorative tea and the most delicious cupcakes in Scotland, we were fully recovered and ready for our knitting demonstration.
Sanquhar is famous for its distinctive square geometric pattern knitting, often based on an 11 X 11 grid and traditionally knit in black and white although other colors were used when available. The patterns are said to have originated in the 17th and 18th centuries, though a definitive origin date remains elusive. Sixteen of the Sanquhar patterns have names, such as Shepard's Plaid, Prince of Wales, Duke, Cornet, and Drum. One pattern may be knit or two or more patterns may be combined in one knitted item. Many of the gloves feature the owners' initials knit into the cuffs, as did many socks in that time period.
Sanquhar's distinctive pattern knitting developed into a cottage-based industry with the knitting done at home and bringing in much-needed income. Exports of Sanquhar knitting reached its height during the Victorian era, when the high-quality items were especially sought after for their distinctive patterns and craftsmanship. This cottage industry started to decline due to modernization and the home knitting slowly died out. Luckily, a few knitters kept the tradition alive, passing the patterns down through the generations. Today this unique Sanquhar knitting legacy continues due to intense local interest and the dedication of knitters. In 2014 a new initiative was started to revive the cottage industry and safeguard the local tradition so it survives in the area.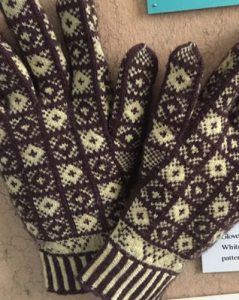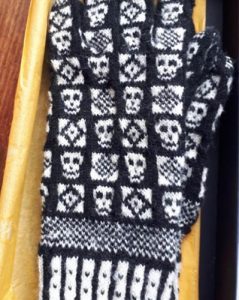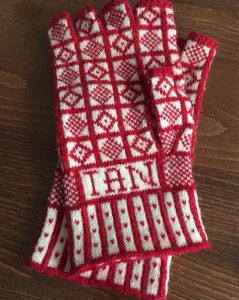 Today, the À the Airts Centre is the real heart of the town with a gift shop selling local crafts as well as many outstanding Sanquhar knitted items using the old patterns as well as new modern ones. The Tolbooth Museum, just a block away has many examples of Sanquhar knitting and knitted items and, combined with the Centre, gives a well-rounded Sanquhar knitting experience.
Sanquhar patterns can be knit on knitting machines as well as hand knit; the Centre features 7 machines that demonstrate the craft and produce items for sale. Gloves, though, must be knit by hand, and feature a tricky bit—the fingers are square, and include a tiny gusset at the base of each one.  Fiona Najder, an expert in Sanquhar glove knitting, revealed the secret of the Sanquhar gloves, demonstrating the tiny gusset on double-pointed needles for the members of our group.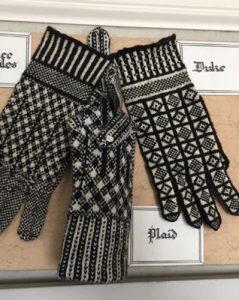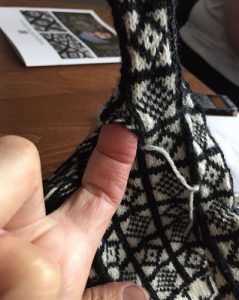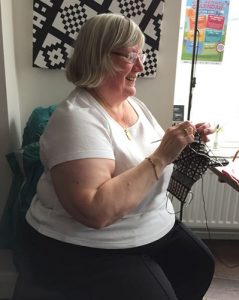 As a result of the painstaking effort needed, few knitters in the area make gloves, which can take about 27 hours a pair to knit, no matter whether large or small. In fact, sizing is a bit limited, due to the geometric nature of the patterns; in order to retain the distinctive grid shape, the only changes possible are choosing thinner yarn or a smaller gauge of needles, already small at size 1 or 2 for a typical pair using 4 ply sock-weight yarn. A size 3 needle starts to distort the pattern. The yarn used for the old gloves was usually sourced from the local carpet mill and was a linen/wool or wool/cotton blend. Today the yarns used are always two solid contrasting colors, usually wool or a wool/nylon blend.
Thanks to the internet, the interest in Sanquhar knitting has spread again around the world, and tourists are finding their way to the area. Many of the old Sanquhar knitting patterns have been recorded; those patterns are available for purchase from the website www.sanquharknits.com/the-patterns/ Hand knit gloves and many other knit items are for sale online as well as in the shop. If you make your way to Scotland don't miss Sanquhar. It is well worth the trip!
You can experience this visit to Sanquhar on our 9 Night Best of Scotland with Highlands Knitting Tour.
Contact us today and one of our dedicated knitting travel advisors will be on hand to answer any questions about the tour that you may have.
---